If you're asking "what size Gi am I?", this article will clear up a few things about Jiu Jitsu Gi size charts.
But if you want a simple answer?
What Size Gi Am I?
The answer: It depends on the specific Gi. There's differences in sizing between brands, and sometimes even within the same brand. Some companies give tall, short, or slim-fit sizing options. Some will shrink, while others are pre-shrunk. Your best option is to refer to the size chart for the Gi you're buying.
With that out of the way, here's a bit more info:
Different jiu jitsu gi brands use different sizing
To put it simply, you can't use your current bjj gi size when you're buying another gi. Unless you're buying the same make and model again. Different brands use different sizes. So when it comes to purchasing a BJJ gi, you need to use the chart that they provide. Period.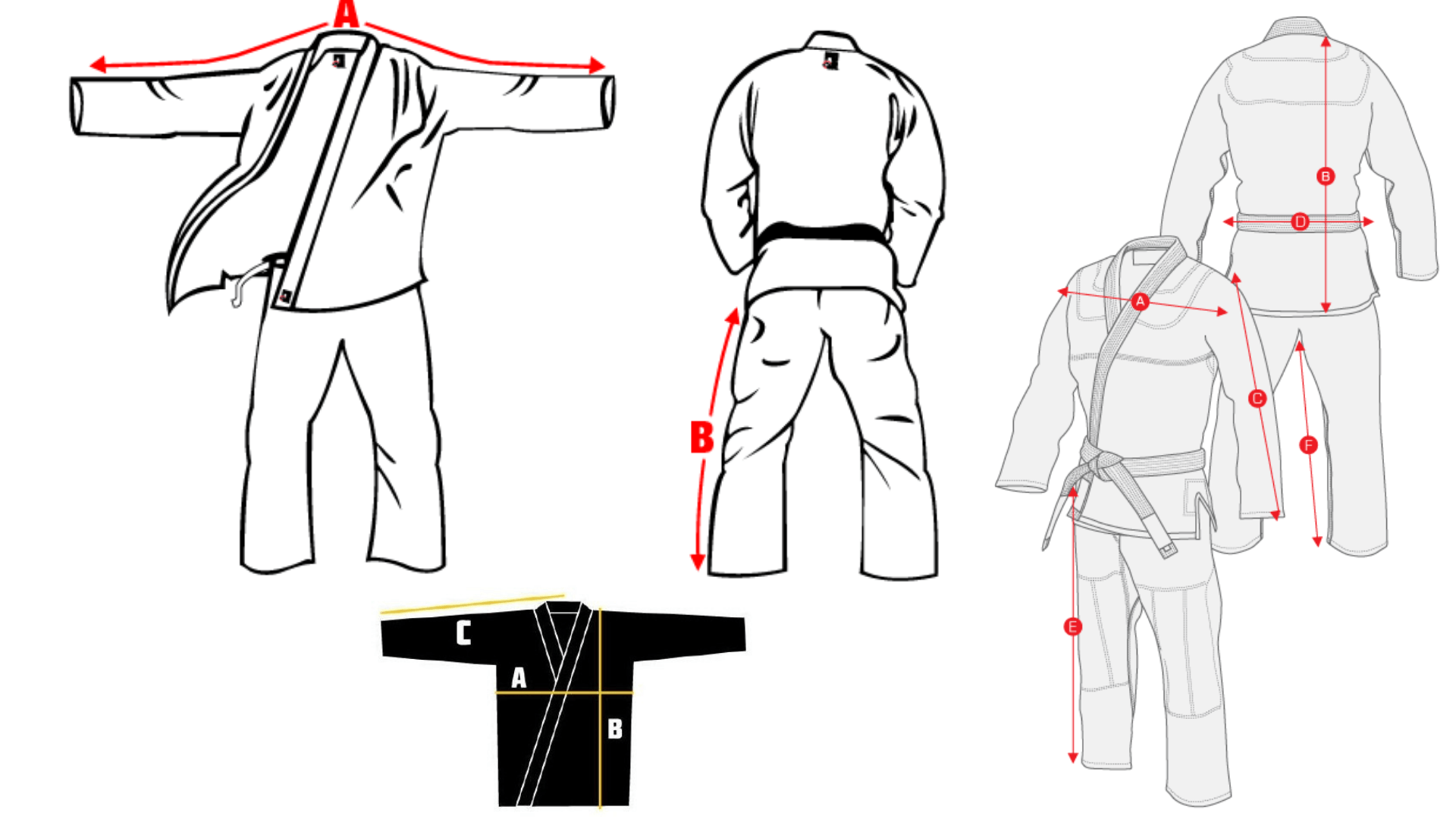 There was a time when there were 4 commonly available gi sizes. It could be tough to get anything different. But, because the entire world doesn't neatly fit into 1 of 4 boxes, brands have stepped up their game.
Not only is there variation between the brands, but now there's half sizes, long sizes, short sizes, fitted fits… you get the picture. Then there's a few other things to think about. Return policies. Pre-shrunk. Shrink-to-fit. The amount of, amount of, um, "manufacturer's tolerances" some brands allow.
But first…
A brief explanation of how jiu jitsu gi size charts work
BJJ gi sizes consist of a letter and a number (e.g. A3). The letter represents who the gi is for, and the number how big the gi is.
Want to learn more about this?
Read: How Do BJJ Gi Sizes Work?
But… I wouldn't bother trying to remember any of the sizes. Or letters.
It's ALL about checking the specific bjj gi size chart for that specific brand of gi.
So what are some of the hidden traps of jiu jitsu gi size charts?
A few things you should know about jiu jitsu gi size charts
Do you know if the gi will shrink… and by how much?
You put in the time and effort to understand a company's jiu jitsu gi size chart. You order the right sized gi. After you wear it the first time, you wash it. Will it shrink? How much? Well, that depends. If you don't find this out, you can waste some money pretty quickly.
A brand that has done an amazing job of testing their product is Tatami. Check out their buying guide… on the same page as their jiu jitsu gi size chart they even tell you the percentage of shrinkage there'll be over 5 washes (based on the wash temperature). Wow.

Other gis are shrink-to-fit. It's embarrassing when you mess this up. Actually, let me rephrase that. It was embarrassing when I messed that up.
My personal favourite? Fuji. If you buy from Fuji, it will be a pre-shrunk gi. I think that's awesome. Why?  If it doesn't fit out of the packet, then it can be returned. If it fits out of the packet, it will fit you after you wash it. I've bought a gi before on good faith that was a whole one size up. I was like an expectant father after the first time it was put in the dryer. If I had shrunk it too much, I wouldn't have been able to return it.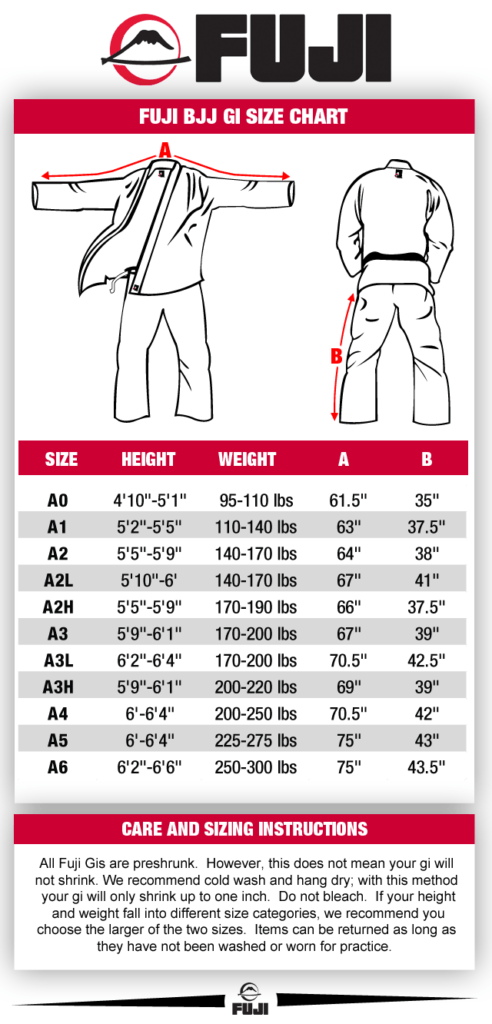 Some brands make it easy – one chart to rule them all
Wouldn't it be awesome if you were a certain height and weight… and then you knew what size you were in everything?
I take my hat off to the team over at Inverted Gear. They make it super easy because there's one size chart to use. Regardless of whether you're a boy, girl, male or female their jiu jitsu gi size chart works for all inverted gis, rash guards, spats, and belts.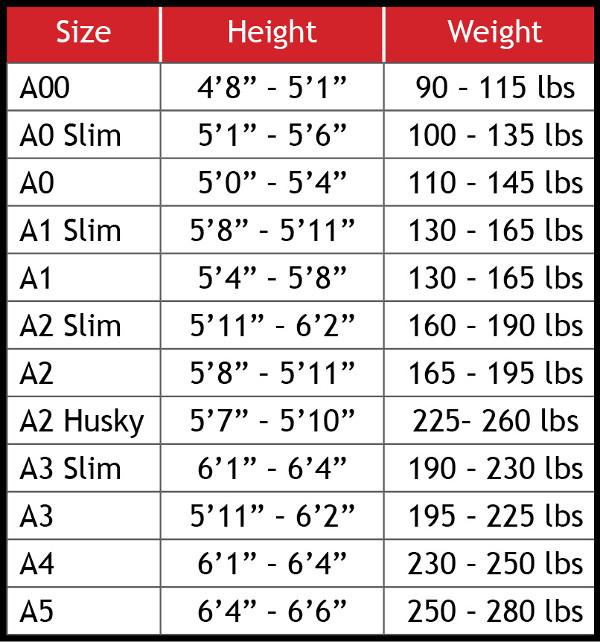 Venum also does a pretty awesome job with this. Their one Venum BJJ Gi Size Chart chart goes into good detail about how to choose the right size (for both gi jacket and pants), and it works for all of their gis. Half sizes too. An added bonus? They give you an 'Apparel Size Match'.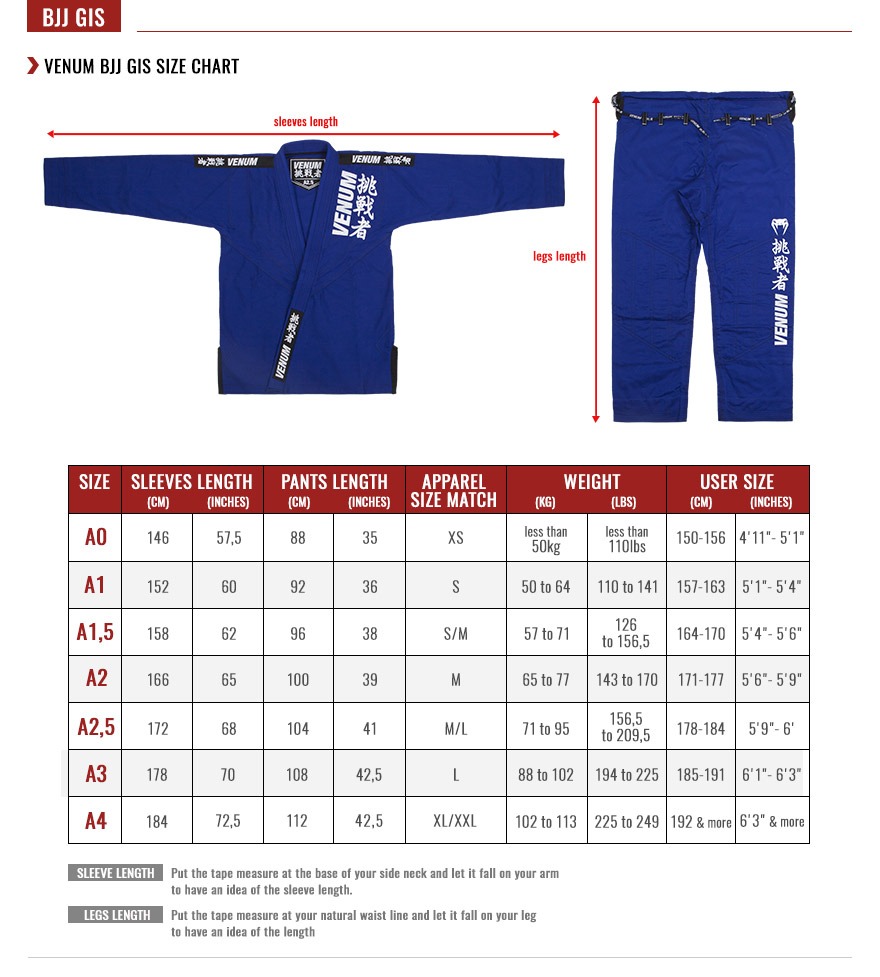 Some brands have different sizing charts for males, females, and youths
If a male, female and youth are all the same height, weight and build… it doesn't mean they are the same gi size. Unless they all buy the same gi. This means if you want to buy a woman or youth-specific gi, you need to check if there's alternate sizing. Some good examples of this are Fuji and Hyabusa.
I personally think this is a good idea because it gives more sizing options within a population's normal height and weight ranges.

Even though you fit the sizing chart, the gi may not fit you
Sizing options are limited with some brands. You may be given some options based on your height and your weight… and that's it.
Too bad if you're tall and skinny, or short and big boned. I like Manto's BJJ gi size chart for their jackets because it takes into consideration trunk length, arm length, and even body width: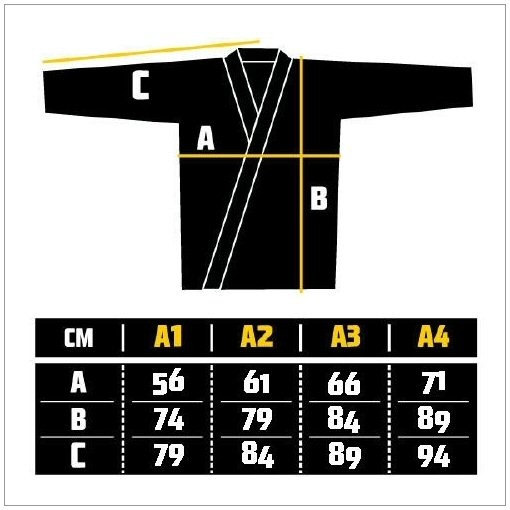 Scramble do a great job with their open and honest marketing. They let you know that overall, Scramble Gis are a considered a slim or athletic cut (they've narrowed the arms and legs slightly and the body is not too wide). They even have an entire page on their website describing how they've product tested their gis to come up with this jiu jitsu gi size chart, and why they have less larger sizes.

Scramble cater for the taller person. Their "L" sizes are the same width in the waist and body but have sleeve and pants length equivalent to the next size up.
It's the right jiu jitsu gi size chart for that brand… but what about that model?
The introduction is based on a true story. Well, not the shrinkage part, but the variation. I don't buy shoes online anymore. I've had different models of Nike shoes that have fitted me perfectly… even though they've all ranged between size 11 and 13. Some gi brands are the same.
My favourite lightweight gi for travelling is my plain white Gameness Air from eBay (I like it so much it's my go-to gi even when I'm not travelling):
This doesn't mean I can just go and buy another Gameness gi in the same size and expect it to fit though. There's another jiu jitsu gi size chart to check out: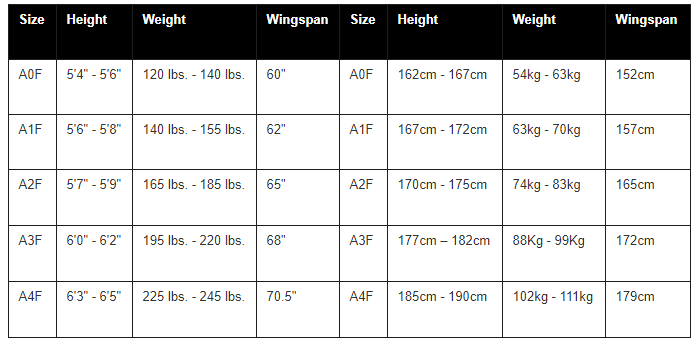 That jiu jitsu gi size chart may not be right for your country!
Some companies have different jiu jitsu gi size charts for different countries or regions. So when you're Googling, make sure you include your country.
Also, it may appear that the local distributor may not have the same size inventory. Before you go import from overseas, it pays to ask first.
Are you buying a competition or training gi?
Training like you fight is a good concept… in theory. But the reality is you might want to train day-in-day-out in something heavier and more durable.
If you have a limited budget… your training gi might be your competition gi. With that in mind, when you check out the jiu jitsu gi size chart you need to think about whether or not it will be IBJJF legal. Here's where a shrink-to-fit gi may be better, as you can gradually get it down to right gi skirt, sleeve and trouser lengths. The cuff widths may be a little harder to control. Google is your friend here (most brands let you know whether or not their gis are good to go).
If you're having trouble then check out these jiu jitsu gi size charts
Some brands will tell you if you fit based on your measurements, not just height and weight
If you're average height and build, then a height and weight bjj gi size chart may do the job. If you're not an 'off the rack' sort of person though, having some more specifics at hand can be, well, handy.
Hyabusa do a great job with their sizing details: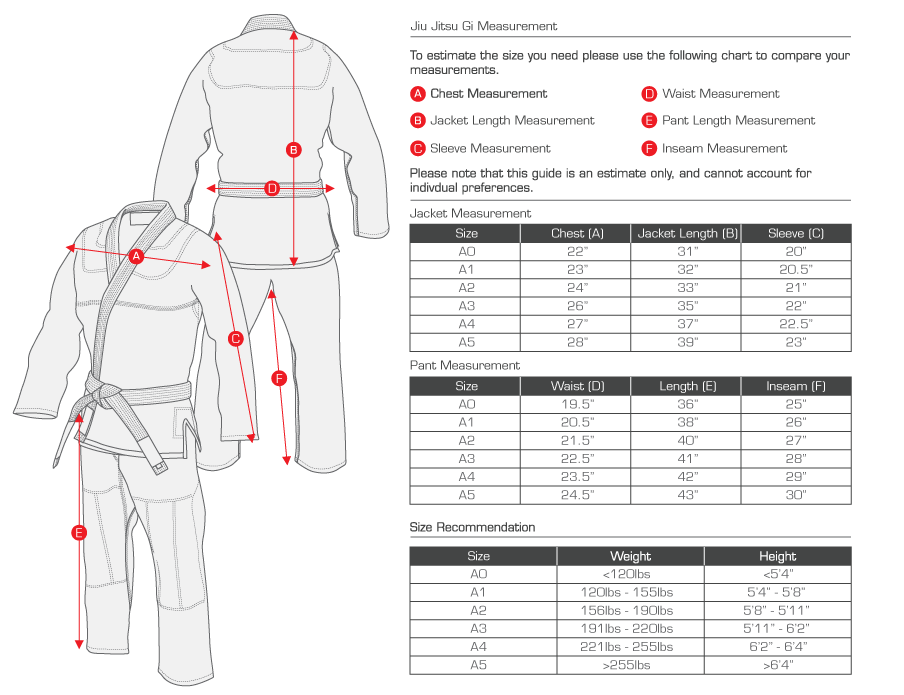 Some brands will give you the option of choosing different sizes for your gi jacket and pants
 So you've skipped leg day? Maybe you have a little junk in the trunk? If that's the case, then it's a good thing that same brands will give you bjj gi and pant sizing charts separately. Once again, Hyabusa have done a good job in going to the extra effort here. Gold star.
Skipped Leg Day or Junk In The Trunk?

Some brands have it down to a science with a height and weight chart
Maybe it's just me, but if a brand has taken the time to put together an 8-page Ultimate Buyers Guide to make sure you get the right gi… to me that screams of quality. That much effort surely translates into other areas of the business.
If you're having any doubt about whether or not the gi you're looking at is going to fit… then I'd look at buying from Tatami. They will make sure you get it right. And yes, this is the same brand that tells you the shrinkage percentage too. Someone there loves numbers.
Good brands will personally help you make sure you get the right sized gi
Good brands go to effort with their sizing charts… but know it's not always perfect. And sometimes we spend a decent amount of money with them. They know that if they give us that personal touch, we'll keep coming back.
Some good examples are Atama and Scramble. Atama gives you a simple jiu jitsu gi sizing chart, but pairs it with more detailed gi sizing charts for both the pants and the jacket. That's a good start. But they go further and give you tips to get the perfect size on their website. It's clear that their brand may be sized differently. They make it clear that you can send them an email or leave them a message at checkout. They'll then get back to you to help choose the right size. That's awesome.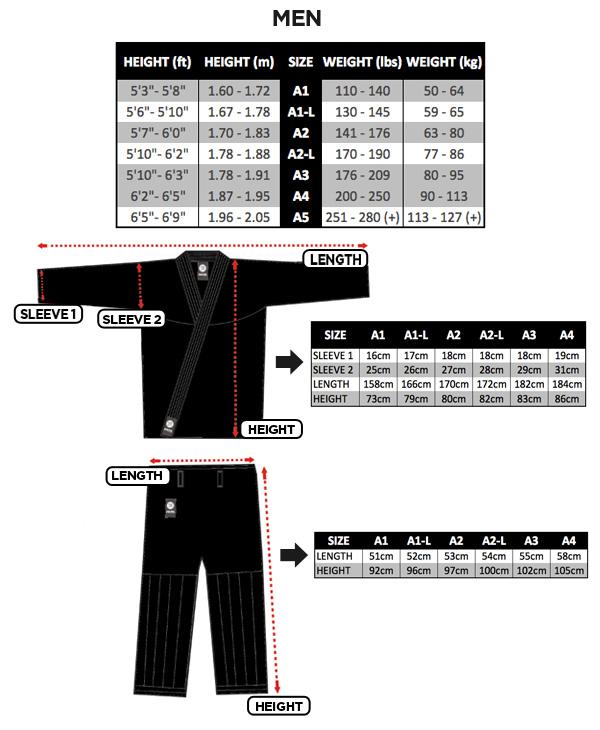 Scramble do the same. They give you the option of contacting them through email or social media.
Good brands know that sizing charts won't always be perfect
Before you hand over your hard earned, find out what happens if the gi isn't the right size. A good company will give you the best sizing chart they can… but let you know it's okay if you don't get things right the first time.
Hyperfly are a good example of giving the standard sizing… but then a more detailed chart to help you make the right decision. But, the 'try it on at home' thing gives you confidence.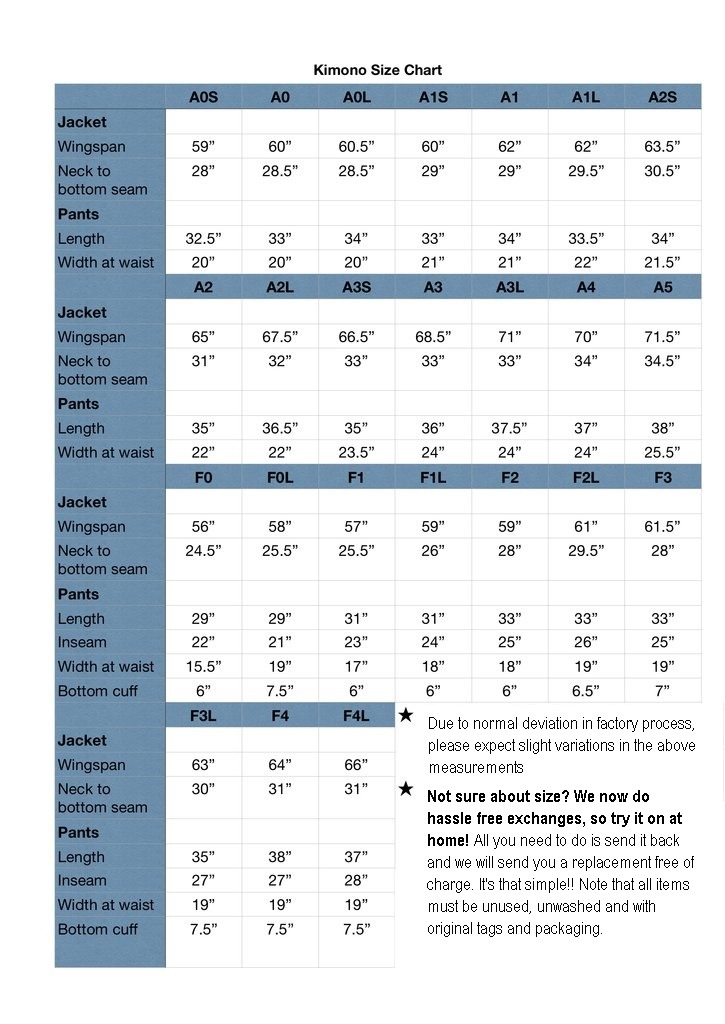 Summary:  How do you make sure you're using a jiu jitsu gi size chart correctly?
The key things to remember are that bjj gi size charts are specific to brand. You may not be looking at the right chart depending on your location, age, and gender. And, the gi might change size after you get it.
If you can, try on a mate's gi (that's one of the best bjj gi size charts!). And read the reviews on Amazon (people are usually kind enough to politely point out if a gi wasn't quite the right size when it arrived). If you're unsure, ask the company you're buying it from. Most are very happy to help because they'd love you as a lifetime customer. If you can't contact them for help with your sizing (or to find out the specifics of their return policy)… then butt-scoot away as fast as you can.
I've stuffed it before. When I crossed over from Judo I didn't even know what a jiu jitsu gi size chart was… and took it on face value from a "mate" that I was an A3.
Have you had any gi purchase horror stories?