If you're after some BJJ gift ideas you're in the right place.
I've put this list of gifts for jiu jitsu lovers for two reasons:
Most of them are things I have and love…
…or they're things I want!
[My birthday is soon]
Let's get started:
BJJ Gift Ideas: Less than $20
BJJ Training Journal
Who are these good for? Well, anyone that you've heard say the words: armlock, chokehold, spreadsheet, and flowchart. Even better if they've all been used in the same sentence. In BJJ there's a surprising amount of detail to learn, and game plans to develop.
Sure, an $0.80c notepad from Costco will do exactly the same job… but it won't make a great gift though!
Check them out here on Amazon
BJJ Coffee Mug
Perfect for the person who loves both coffee and BJJ. Why? These send a powerful message: I'm hyperalert and am probably sore somewhere. Plus, if they love the mug they'll drink from it instead of spending $5 on a latte. It's the gift that keeps on giving.
Check them out here
Mastering The 21 Immutable Principles Of Brazilian Jiu-Jitsu: The Ultimate Handbook for Brazilian Jiu-Jitsu Students
You know who this book ISN'T for?
The type of person that likes to go to training, come home, and forget about BJJ until the next training session.
Why? This book doesn't teach techniques. It teaches the principles behind how to get techniques to work, and how to put them together into a strategy. It leads to a lot of thinking about Jiu Jitsu. Even though it's pretty thin, it's 112 pages that'll be read again and again. Amazing value for money.
(I'd buy the book if it's for a gift, but if it's for yourself get it on Kindle. It's an easy read even on the phone)
BJJ Baseball Cap
Hats are perfect for people who look like they've been in a fight when they finish training.
Or just for people who like hats.
Check them out here
I personally like to cover my mat-hair after training with the more subtle ones like the hat pictured
Master Jiu-Jitsu Master Life: How To Create An Extraordinary Life Through Jiu-Jitsu
This is the book for people who love both self-improvement AND Brazilian Jiu Jitsu.
It's about the proven principles of success used by those at the top of the game.
But what's great about it is that it goes one step further… it provides guidance on how these principles can be applied to other areas of life.
Awesome.
It has a 5.0 star rating on Amazon, so its not just me.
The Most Important Techniques of Brazilian Jiu Jitsu (Digital Course)
I wish this Udemy course was available when I was a White Belt or newly minted Blue Belt!
It's a one-stop-shop video collection of the techniques a White Belt should be focusing on… and all the techniques a Blue Belt should know (with details on how to make them work).
This course comes with a 30-day money-back guarantee and has a 4.8 star rating from around 1,400 students… so it's a safe bet!
Check it out here on Udemy.
Funny Jiu Jitsu T-shirts
Built for the person who likes martial arts without taking themself too seriously.
The cool thing about these shirts is that the jokes often go over the non-BJJer's heads.
So instead of being a sign that says "I'm tough", they're more like a secret handshake.
This one is from ebay (but also check out Spreadshirt)
Jiu Jitsu Chess T-Shirt
Love BJJ, but not the type to wear funny T-shirts? Well then, this one is a bit more subtle. I don't know of anyone who wouldn't like a shirt like this.
You can get it here (pairs well with the BJJ Training Journal)
WARNING: Be prepared to be have random people walk past and give a subtle nod, or be interrupted with people asking where you got it
BJJ Gift Ideas: Less than $50
Martial Arts Mouthguard
Now, you'd think that a mouthguard wouldn't be the greatest present to get… but in the Reddit thread "What's Your Favourite BJJ Gift You've Received?" the SISU came up more than once. Of all the BJJ gift ideas this isn't the most expensive gift you could buy, but it's probably the most valuable. And, for some reason because they're BJJ specific, they're cooler.
Two worth checking out are SISU and the Venum Challenger.
Teeth are pretty good.
Ashi Garami Fundamentals: The Best Leg Lock Course for Beginners
You can check out my full review here… or if you don't know much about BJJ and you're buying for someone else? Pretty much all you need to know is that leg locks are sexy. They're bright and shiny.
This course is suitable for all levels (it's 100% IBJJF legal for all belts, including white). It's also good for people who already know the straight ankle lock, but want more options to get to it. What I like about is is that the course is structured as a game plan.
You can purchase straight from the creator Prof. Gustavo Gasperin at MMA Leech (he's a nice guy too!).
Qalo Silicone Wedding Rings
Because diamonds are forever, but silicon is for every day (Qalo, you can use that as long as you send me some free stuff!).
Why are these good? Well, I cringe every time I see someone wearing their ring while they're rolling, gardening, operating tools, or at the gym. Ever heard of a de-gloving injury? Yuck. I have a plain black one, and I wear it all the time. My wife has a couple of different coloured pretty ones… she lost one at the bottom of a waterslide. Much less heartbreaking than losing her real wedding or engagement ring.
They're the jewelry version of activewear.
The best place to buy them is directly through Qalo.
Grip Trainers + Grip Fighting Course
A strong grip is important in Jiu Jitsu. Different types of grip-trainers were another surprising feature in the Reddit thread, "What's Your Favourite BJJ Gift You've Received?"
The top 3 options are the Jits Grips, the Origin "OrangaHang" grip trainers…
…or my pick, direct from Scramble the Scramble Grip Trainers.
NOTE: Grip-training by itself isn't going to improve someone's Jiu Jitsu (unless they've got muppet arms). Grip-fighting is a strategy all by itself. I'd recommend pairing trainers with a copy of BJJ Grip Breaks – Brazilian Jiu Jitsu Grip Fighting System. It's done by Matt D'Aquino (a Judo Olympian and BJJ Brown Belt)… and it's only $4.97
The Ace of Escapes (How to Escape, Defend, and Survive from the Three Most Dominant Positions in Brazilian Jiu Jitsu)
If someone's a White or Blue Belt, this course should be mandatory.
The early years of Jiu Jitsu are spent trying to survive and get out of bad positions. Think of this as the gift of not being stuck under someone with a smelly Gi and too much chest hair. I wish I had this earlier. It would have made life way more enjoyable.
Buy directly from MMA Leech.
BJJ Gift Ideas: Less than $100
A Cheap, Plain White Gi
One of these is a perfect gift for the person who's just getting into BJJ. But… everyone should have a basic white Gi.
Even if they're a more seasoned BJJ'er. Why? Giving one of these is like giving permission to squeeze in a training session while they're travelling… because not all clubs are relaxed about randomly coloured patch-covered uniforms. At this price you can't go wrong (and the quality is suprisingly good).
Tatami Chess Gorillas Rash Guard
A gorilla playing chess? This rash guard sums up the essence of Jiu Jitsu. It's my all-time favourite graphic design related to the sport.
I'm yet to meet a person who doesn't like it. Of all of these BJJ gift ideas, I don't think you could lose with this. I know that if I got a second one I wouldn't be upset!
Check it out here at the Tatami store on Amazon.
Gameness Air Lightweight Gi
Perfect for anyone training in hot climates, people who travel, or anyone that might need to save a little weight at the next tournament weigh-in! The Gameness Air Gi is one of the most popular Jiu Jitsu Gi's ever made… and it's used by pros and amateurs alike. It's simple, understated and one of the lightest Gi's on the market. Get it in white, and it's perfect for travelling.
Prices vary a bit and white can be hard to get at times: best I could find is on ebay
Gymnastic Rings or a TRX Suspension Trainer
A set of rings or a suspension trainer is perfect for anyone who: doesn't have space for a home gym, likes to train while they're travelling, or just wants to develop awesome strength.
If they're going to be permanently at home, I'd recommend a set of rings every time. They're way more versatile, you can do more challenging exercises (and they're cheaper here).
If they're going to be in the suitcase, then go the TRX (they fold up a bit smaller and are lighter).
A Cool Jiu Jitsu Rash Guard
Scramble come up again and again as someone that makes cool designs. You can also find my coolest BJJ rash guards here.
Designs have names like 'Coffee then Chokes' and 'Lazertronic'. Their product descriptions use terms like face-meltingly awesome, having a legendary 80s design, or being VHS-flavoured. Even if you're not going to buy one, at least do yourself a favour and read the product description for the Scramble Strong Beard Rashguard. Comedy genius. Best place to go is directly through the Scramble website.
Grappling Shorts
Whether you're a beginner or experienced grappler, BJJ shorts aren't a 'nice to have'… they're a 'must have' for anyone that trains BJJ No-Gi. Why? Safety.
Some clubs won't allow you to train with shorts that have pockets or external drawstrings. They catch fingers and toes. They're also banned in competition.
But hey, I'll be honest… they also look the part! I personally recommend the XMartial BJJ Shorts (they're plain enough to wear to the gym).
If you're down under you can buy from Fuji Australia, otherwise here from Amazon
Grappling Tights (aka BJJ Spats)
It took me a while to jump on the grappling tights (aka spats) bandwagon. I wish I'd known earlier.
They keep you warm, you slide better on the mats, don't get your leg-hair pulled, and they help you avoid mat-burn. Even people in the tropics wear them! I've only had one pair from 93brand… and I don't really have anything to compare them to. I won't link to them. Scramble Brand have been recommended more than once.
An IBJJF Ranked Rashguard: The Fuji Freestyle Rash Guard
The one drawback of rash guards with crazy designs on them is that you can't wear them in competition UNLESS they just happen to have the right amount of your belt colour on them.
I recommend this rash guard as it's suitable for any rank that's planning on competing in IBJJF competitions (it comes in all belt colours, both long and short sleeve)… and it's still stylish with its picture of Mt Fuji and its Japanese writing.
The best place to buy is from Amazon.
The BJJ Formula DVD Set by Grapplearts (Stephan Kesting with Rob Biernacki)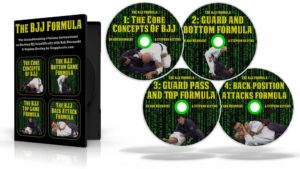 If I could only ever buy one BJJ instructional, it'd be this one. You get an in-depth breakdown of the fundamental techniques of BJJ (as well as some advanced ones too). But, there's a lot of emphasis on the underlying core concepts and principles of Jiu-Jitsu. It's an 8 hour masterclass that's delivered in 4 volumes.
You can read my review of Volume 4, or if you would like to see the whole thing check it out here
BJJ Gift Ideas: Over $100
Subscription to 'Yoga for BJJ'
Give the gift of flexibility! The good thing about this platform is that there's a program to suit anyone: beginner's, intermediate, advanced, specialty programs and even ones to focus on specific body parts.
There's the normal "get flexible" poses… but also ones specific to the weird BJJ positions you find yourself in.
There's some good comedy value in it too.
Check it out at Yoga for BJJ
Datsusara Gear Core Bag – The Best Bag for Jiu Jitsu
This is more than just A bag to put your BJJ gear in. This is THE bag. If you ask Mr. Google which is the best gear bag for Jiu Jitsu, this will always come up as the answer.
They're not cheap, but they're awesome.
Check out their website here
The Best BJJ Gift Idea… An Awesome Gi!
The best gift I EVER received was an awesome Mizuno Judo Gi. Why? It showed that my girlfriend (now wife!) really did support my hobby. And, knowing which brand? That showed me there was obviously some care and research behind it. Answering the question "What's Your Favourite BJJ Gift You've Received?" on Reddit, these are the ones that came up:
Shoyoroll RVCA V2 Batch 60 Gi
Origin Comp Atleta Gi, or
Tatami Estilo:
So there's 25+ BJJ gift ideas…
Most of them are things I already have (or have researched them to get them soon)…
…so do you think there's anything I should have included?
Comment below: